The project
We, Simea Cavelti (Switzerland, Pomegranate Seed Association) and Bassam Abou Diab (Lebanon, Beirut Physical Lab Lebanon) are going to lead a dance laboratory that will last for one month and will take place in Lebanon in April/May 2023. Together with six selected people between 22 and 30 we want to open up a space for exchange. Those eight individuals have diverse artistic backgrounds and rather little experience in the field of performing arts but are curious and motivated at heart. We have selected them by observing their commitment to dance over the past year, by having conversations with them and by assessing their skills and potentials. The commitment, intellectual and physical curiosity, openness and artistic potential is important for us as the creative process will unfold and result in a public sight specific performance in front of diverse audiences. The premiere is planed at Hammana Artist House during the first week of May and a tour across Lebanon in diverse cultural spaces and villages will follow during May/June 2023.
Through dance we potentially experience how the most inner world can connect with the outer world. It's a place where we can be truthful and profound. Through dance we can face questions, give space to doubts, fears and anxieties and connect to our imagination in order to be utopian and poetic. Dance can also create a sense of freedom and is at heart a generous and social art form. Dance has a powerful impact on people: In mental health it is known to decrease anxiety, deepen self-awareness and foster confidence. Over the past few years we, Simea and Bassam, have both realized how resourceful and freeing dance can be in challenging times. Therefore we strongly believe that this project will have a fruitful and positive impact on people in Lebanon. Dance has the potential to connect people to their heritage and origins as it can have a strong cultural and spiritual component. This is present in Lebanon and people's bodies.
The focus of this Lab is a physical and artistic research that explores the body archive of the project participants. Archive here means that we all continuously stock our experiences in our body. Cultural heritage and personal stories are stored in buildings, and smart phones - but not only. The past influences the present and how we navigate in our environment. Dance, human exchange and creative work always connect people to the very present moment. Therefore the choreographic process allows the Lab participants to embody transformation and a dialogue with their inner world as well as with the challenging social-political landscape they are living in.
Dance Lab Lebanon is going to be a process-orientated project through which a performance will emerge. The performance will oscillate between testimonies of individual stories and the collective experience. It will shift between the abstract and narrative expression.
Our objectives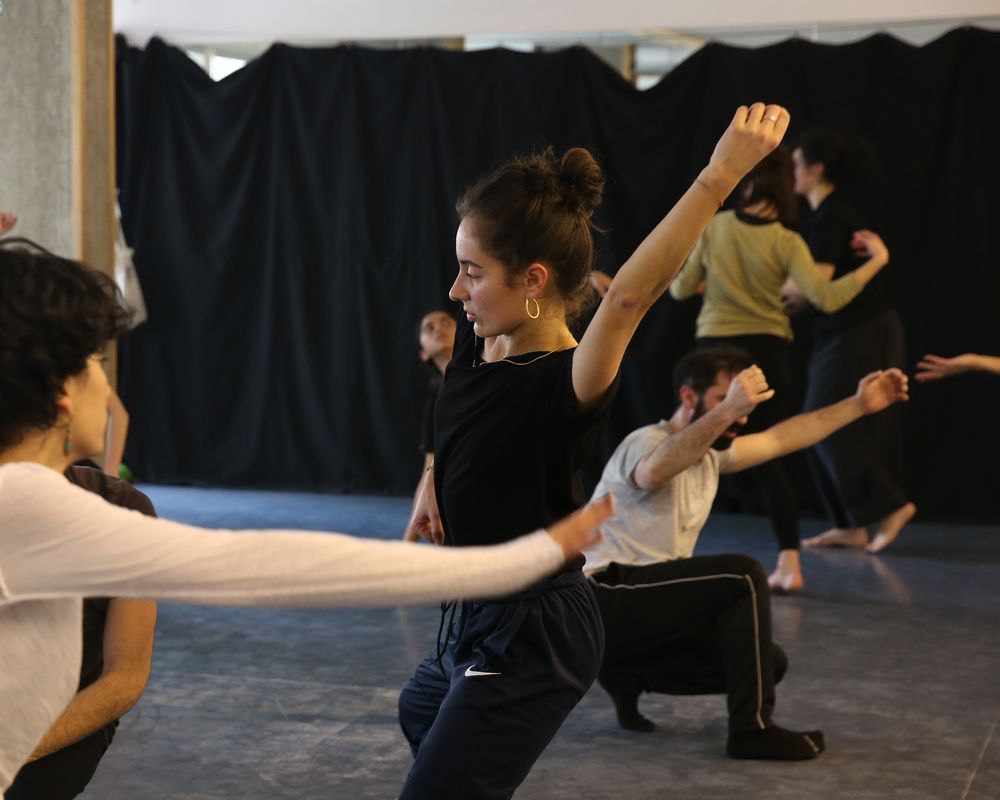 To contribute to developing the skills and confidence of young people, and to foster creative thinking;

To reach out to a diverse intergenerational audience through an outdoor dance performance with a live accompanied sound artist and to make culture accessible;

To work with a flat hierarchy to produce high quality and sustainable work, encouraging the independent ownership of responsibility;

To develop relationships across diverse social classes and various backgrounds between the Lebanese project participants, local communities and institution.





Photo credit: Ibrahim Dirani